Daystar Foundation has partnered with Ardoch Youth Foundation in Victoria to offer its Literacy Buddies® program to the schools we work for in Sydney with around 700 corporate volunteers.
Ardoch's Literacy Buddies® is an in-school program in which a class of students (approximately 25 "Little Buddies") and their corporate volunteer "Big Buddies" exchange monthly letters, with the goal of encouraging students to read and write, and provide meaningful interactions with positive working adult role models.
Ardoch's Literacy Buddies® develops:
Strong relationships between Big and Little Buddies
Team building and community awareness for volunteers
Positive working role models for children
School-study-work pathways and aspirations
Literacy skills, social and life skills
Connections between schools and local communities and businesses
In addition to Daystar Foundation's 22 Literacy Buddies® programs in Sydney, Ardoch Youth Foundation currently delivers 32 programs in its partner schools in Victoria, and 7 programs in Perth and Brisbane. Together we are working with over 20 corporate and community organisations, with administration, professional and manufacturing staff, board members and police officers all involved as volunteers: 1,600 student Little Buddies and 1,600 Big Buddies.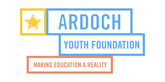 Law Society Journal - Read about the partnership between Daystar Foundation & Clayton Utz